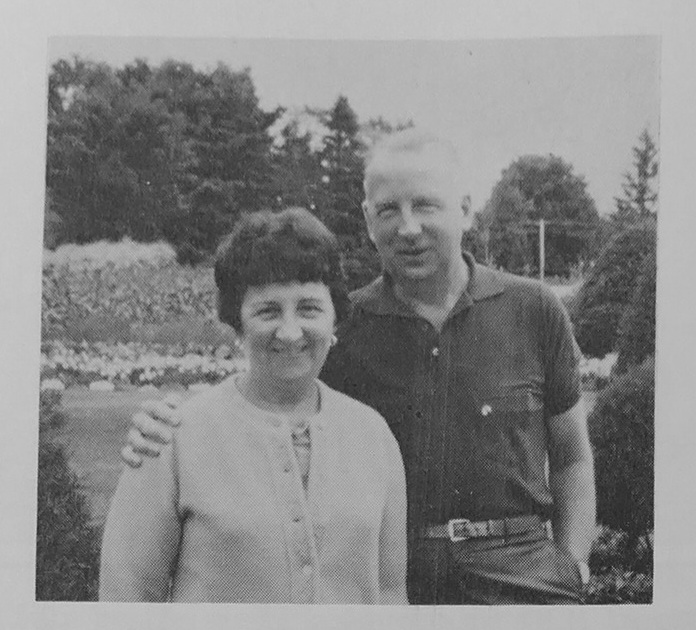 BAIE D'URFE MEMORIES, by Peter Smith, N&V April 1977
1912 - I was a pre-schooler and my father, having emigrated from Scotland, was working on Stoneycroft Farm. During this period, the farm, residences, blacksmith's shop and barns were destroyed by fire. It is now the site of the Morgan Arboretum.

1913 - My family moved to Baie d'Urfé to McMaster's Farm. This area was later called Scott's Farm and covered the area on the east side of the Town from the lake to Ste. Marie Rd., including the present Poplar Place and Oakridge areas, from Normandy Rd., to Magnolia.

1916 - Most people lived in Baie d'Urfé only during the summer months. The Town Hall was the focal point of activity; dances were held in the Town Hall and there was a grass tennis court. The Town caretaker, Charles Nash, lived upstairs and his wife operated the Post Office to the left of the side entrance. Mr. Nash picked up the mail bag which was dropped off by train at the station and returned outgoing mail there each night. Bob Boden, who now lives in Beaureapire with his daughter, was foreman during the laying of the suburban water system in Baie d'Urfé. Wooden pipes were buried in the ground below the frost line, all work being done by hand labour and horses with dump carts. Twenty-five cents an hour was the going price for labour.

1919 - Ste. Anne's was booming in this period due to the opening of Macdonald College and the construction of the Military Hospital built to accomodate veterans of the War of 1914-1918. It was to be temporary (10 years) and built of cheap materials. It was demolished just five years ago! My father gave up farming in Baie d'Urfé to move to Ste. Anne's, where he was active in building Pacific Avenue in Senneville and then the Power House for the Hospital which still exists. A strong Scot, my father had never been sick a day in his life. In 1923, he caught pneumonia and died within ten days - there were no antibiotics at that time.

1925 - On weekends we would visit the Nash, at Town Hall and play hockey on the river ice. No cars could use the Lakeshore Road winter - transportation was by horse and sleigh only. Harland's Dairy -on what is now Fritz Farm- had many horses and it was not uncommon to see twelve horses hitched to a wooden snowplow, with Mr. Nash as the "rudder" to see that the job was well done Saturdays I often helped Len Harland (the father of George Harland who now lives on Gay Cedars Dr.) deliver milk. The local bakers, Godins and Pilons of Ste. Anne's made three trips weekly by horse and sleigh or wagon, to Pointe Claire. Transportation of goods from Montreal was by train from the Ste. Anne station, or River Boat to Ste. Anne's wharf. (Now the parking area behind the liquor store). About this time the bridge in Ste. Anne's was under construction. Prior to this, four ferries - and an ice bridge in winter - looked after transportation to the west. Mr. Robert and his family, who had a small farm on Caron Point, were responsible for tending the oil lamps in the lighthouse located there.

1930 - Baie d'Urfé was in a stalemate for the next few years. Mr. Cairncross started a dairy farm at the bottom of what is now Lakeview Rd., but his cows developed TB and his barn was burned. He re-located where Ryan's House and farm is located but again without much success and he and his family (except one brother, who lives on Morgan Rd.), moved to Ontario.

Sunday School picnics were held in Baie d'Urfé on the property of Scott's farm which, except for two stone houses in the easterly part (Lindsay's and Molson's?) was open field on the waterfront.

1945 - Baie d'Urfé, at this time, began to be the town it is today. Councillor Dr. Hanson and his committee, including such advisors as Professor John Bland, laid the gronndwork for town planning and zoning. Many veterans were seeking land on which to build houses. At this time, Baie d'Urfé consisted of Lakeshore Rd., Morgan Rd., St. Andrew's Rd., up to what is now Victoria Drive, and Oxford Rd. Mary and I bought two lots at an auction sale and built the home we are now leaving.

1946 - Lakeview Rd. (popularly known as "Veteran's Rd."), was the next street to open. "Mac" Davies (the school master at "Mac") bought property where Cambridge Rd. was planned. Messrs. Hudson and Pinkney and many other Lakeview boys, such as Bill Parker, Ernie DeWitt, Tom Vauthier, Reg Vidler, helped change the method of town administration. Regular meetings were held in Town Hall so that citizens could attend. Prior to this, council meetings had been held in John Long's city office.

1947 - Syd Nagley, with a small group of new citizens, including the Holidays, Hudsons, Pinkneys, Parkers, deWitts, Vidlers, Vauthiers, etc., formed the Baie d'Urfé Citizens' Assoc., - the purpose of which was to work with the Council to ensure that Baie d'Urfé developed as the type of town these people wanted. Mr. Phil Holiday was the first chairman. NEWS & VIEWS was started by Mr. Nagley and his wife "Sis", who ran off copies in their kitchen, at their own expense, for several years. Heather Gray took over later. The NEWS & VIEWS was more of a local information sheet in those days, than the magazine it has since become. There was great co-operation among the townspeople.

The new arrivals, mostly veterans, had little money, but lots of energy. They cultivated lawns, gardens and trees; horticulture courses were given at Town Hall by the Horticultural Society, which was very active in Town, with plant sales, flower shows, etc., for some 12 years.

I served two terms on Town Council - one under Fred Case as Mayor, and one with Jean Gelinas. I believe that Jean Gelinas was perhaps the most progressive mayor. In two terms as mayor and one as councillor, he accomplished much. His personal generosity to Baie d'Urfé and its residents will never be completely known. It was in the period of his mayoralty that much of what we now enjoy came into being. Berthold Park was set up, the Barns (now referred to as the Coop area) was purchased for town use, the Hydro underground (part way) was set up, as were the fire and police departments, and Hydro Power transformers across the tracks; new by-laws were established and community spirit - aided by dances on the town hall lawn and other functions - flourished.

Baie d'Urfé of recent years is well-known to NEWS & VIEWS readers and many articles have been written about its development. After thirty-two years here, Mary and I leave now with many happy memories and many good friends. We won't be far away and will keep in touch as we watch with great interest, Baie d'Urfé's continuing development.

(sgnd.) Peter Smith.

---
BAIE D'URFE MEMORIES

We are most grateful to the many readers who have written to tell us of their early memories of Baie d'Urfé as we celebrate our 30th birthday. We will be publishing these letters in future issues. This month, we are pleased to publish the memories of Mary and Peter Smith, who have many memories - of many, many volunteer hours spent in the development of Baie d'Urfé.

At the March Council Meeting, Peter, who attends council meetings regularly as an interested observer, was asked to sign the Town's Golden Book.
References
Images of the original N&V article:

---