Book printing kit: A HISTORY OF THE TOWN OF BAIE D'URFE

Note: The Town of Baie-d'Urfé is the copyright holder for this book but you can print a physical copy for personal use.

Files
Instructions
Make sure your printer has a duplex unit and supports Tumble-duplex, aka short-edge-binding duplex.
Download the above pdf files.
Print the book cover pdf on a light cardboard, paper size: letter
Print the main book on normal paper, paper size: letter
The pages are sorted in a "funny way" such that 4 pages end up on one sheet of paper. The Foreword and the last page do appear on the same physical page. It results in a book when you fold the whole stack of paper in the middle.
Turn the stack over and mark the center of the page on the inner most page in the book. For this book this is the page with page numbers 14 and 15.
Put the cover on the outside and then use a sewing machine sew all the pages and the cover together (in the center). Alternatively you could use a wood stapler and use staples to hold the book together.
Fold the book along the center line and enjoy reading!
You could take this book to a print shop and ask them to cut the sides of the book flush.

Here are some pictures of the process: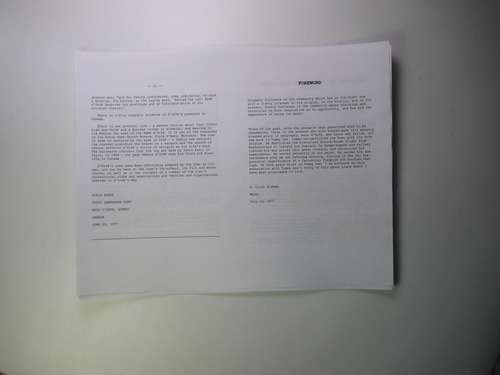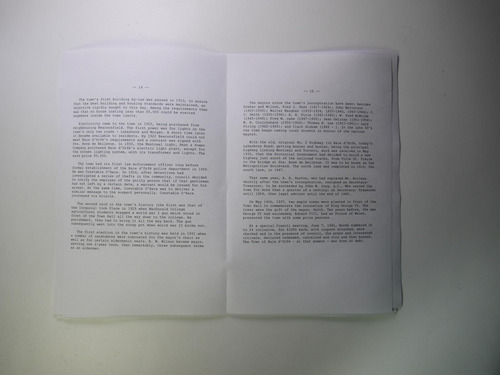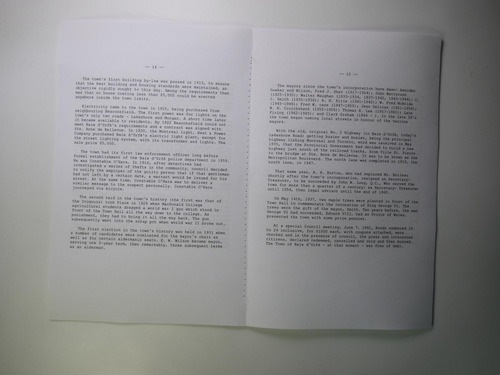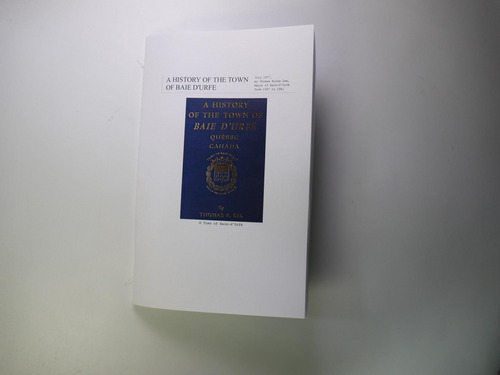 Here is an example for a Xerox Phaser 6250 printer on a Apple-CUPS print server. I am printing from a Linux PC. The commands to print the book in tumble mode are:


lpr -P phaser6250book -o 'Duplex/2-Sided Printing=DuplexTumble' book-printing-kit-a-history-of-the-town-of-baie-d-urfe-book-cover.pdf lpr -P phaser6250book -o 'Duplex/2-Sided Printing=DuplexTumble' book-printing-kit-a-history-of-the-town-of-baie-d-urfe-book-body.pdf




---
->back to the book: A HISTORY OF THE TOWN OF BAIE D'URFE, © Guido Socher,